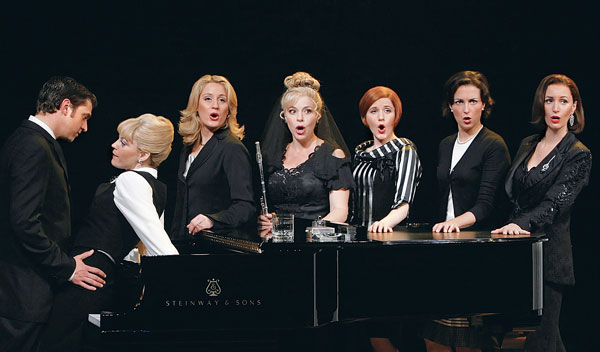 I didn't intend to write a blog on the recent revival of Company but it's something about listening to Raul Esparza sing "Being Alive" that can't be dismissed.
My first encounter with Company was during a semester at Scottsdale Community College. I was taking a History of American Jazz type of class. For some reason I was allowed to do my report on Stephen Sondheim (I don't know how I got to that either) but I researched all of Sonheim's shows, to be honest, not really that familiar with most of his work.
I stumbled upon Company and was confused. So this guy, Bobby/Robert, a bachelor in NYC, turning 35.
Okay.
The show didn't catch my eye until the summer of 2007. (I became ardently obsessed with Sweeney Todd up until then though) I was forunate to see the Broadway revival of Company during it's final week. I didn't know much of the music but I was excited to go. I purchased student tickets that morning and was able to see the matinee...in the front row.
I don't think I've ever been that emotional after a show. I don't mean crying or saddness, I mean, feeling and experiencing different emotions. I remember calling my friend Amanda after the show and telling her, I don't know if I should cry, vomit, laugh, dance, run, or do other activities. I was such a smorgasbord of emotions afterwards but all in a good way.
While in no way am I a 35 year old bachelor in NYC or in a marriage like many of the characters, I still connected with the show.
I'm going to devote this next blub to Raul Esparza who is just phenomenal in all aspects of the show. I remember sitting there with eyes wide open and smiling like a weirdo just drinking in his amazing vocals and acting. In my humble opinion, he deserved that Tony. I didn't see Curtains, so I have no real view on David Hyde Pierce's performance but I'm pretty sure I threw things at the TV when Raul lost. (and again last June for The Homecoming. He pretty much deserved an award just for his reactions during Xanadu's performance...anyone anyone?)
So to conclude this rambling entry, Company was amazng. I recall one of the actresses at stage door talking to her friend saying, "Look at how these kids [the students who rushed for front row were all at the stage door] identify with this show. It's not just for adults." It's one of those overheard quotes that has always stuck with me. And absolutely true.
If this for some reason has caused you to want to view this production - you can! PBS filmed it, and it is now available on DVD. Netflix it, buy it, love it! Enjoy.